Our loved ones are gone far too soon by suicide and/or outcomes from marijuana use or other substance use that started with marijuana. We honor their beautiful memories and bring them into the light to increase awareness and decrease stigma. We link our arms in solidarity to educate parents and youth about substance abuse, mental health, and suicide prevention. Marijuana is not harmless! We are testimonies of the great tragedy of marijuana use. On the date of death of each loved one, we will post this memorial on the Johnny's Ambassadors Facebook page to honor and remember him/her.
---
If you have lost a loved one due to marijuana outcomes, please email their photo, full name, your name(s) as you want it listed, birth date, death date, and a 75-word tribute (refer to examples below) to [email protected].
---
In Honor of John Kenneth Stack (Johnny) by Laura and John Stack
2/7/2000 – 11/20/2019
Johnny was a happy, funny, handsome, intelligent young man. He loved animals, video games, the beach, his friends, and his family. He was a brown belt in karate, ran cross country, grew up in youth group, and played the piano and guitar. His values were altruism, patience, conviction, enthusiasm, and gratitude. He graduated high school with honors and a college scholarship and planned to be a computer programmer until he developed delusion from doing THC dabs.
Johnny's Ambassadors was founded in memory of Johnny Stack.
In Honor of Dillon Andrew Blodgett by Adriene Leonard
5/25/1992 – 01/23/2016
Dillon was a kind-hearted soul who loved his family, his kitty, Ophelia, and his many friends. He generously assisted others in need of a helping hand and someone to lean on. He was happiest engaging in his favorite outdoors activities: snowboarding, skateboarding, and photographing the Colorado mountains, landscapes, flowers, and action shots of friends skateboarding, snowboarding, and playing in bands. His goal was to be a professional photographer.
In Honor of Charles Aubrey Rogers by Anne Moss Rogers
4/26/1995-06/05/2015
Charles Aubrey Rogers was the funniest, most popular kid in school. He was complex, adorable, frustrating, effervescent, charming, eccentric, and a creative genius. When he waltzed in, faces brightened, bodies turned toward him like he brought the sunshine in his pocket and he was there to hand it out. He lived with ADHD, a sleep disorder, depression, anxiety, and finally a heroin addiction, which was a contributing factor to his suicide at age 20.
In Honor of Andrew Steven Zorn (Andy) by Sally Schindel
10/15/1982 – 3/1/2014
Andy was a fun guy full of dreams and plans. At age 9, he announced plans to serve in the military to earn a college degree, which he did. Andy was first a paratrooper with Army's 82nd Airborne, and then he earned an AA degree. He planned to be a millionaire by age 40 and started his IRA retirement savings at age 16. Sadly, severe Cannabis Use Disorder derailed him and robbed him of all he had accomplished.
In Honor of Matthew Gordon Pontefract by Wendy Pontefract
11/29/1999 – 3/31/2020
My beautiful, sweet, sensitive boy loved everyone and wanted to be loved and accepted by everyone. Matthew was bright (he was especially good in math) and creative. He loved animals and spending time with friends. He grew into a beautiful, fit young man, who was the starting center on the football team and a participant in drama productions. We love him still and miss him terribly. Rest in peace my sweet young man.
In Honor of Chris Cowan by David J. Cowan
4/23/1971 – 1/21/2000
Chris was an outstanding high school student, co-captain of the wrestling team, and president of the student council. As a senior, he received the American History prize; the best peace essay; a national scholastic writing award; the best math student award; AP Calculus award for the highest score; and the Student Leadership award. He enrolled at Stanford at the age of 17. To be one of the boys, he started smoking marijuana, which led to paranoid schizophrenia and resulted in suicide.
In Honor of Ryan Gardiner Dow by Ray Dow
11/17/2001 – 08/07/2018
Ryan was a fun, smart, creative person. He was a loving son, brother, and friend. He loved animals, especially his cats and his pet bird, Cheech. Ryan enjoyed playing the guitar, skiing, and spending time with his friends. Ryan toured University of Denver just days before he died and planned to attend there. He wanted to work in the music industry. We don't know why Ryan decided to take his own life. He is loved and missed by many.
In Honor of Joel Jonathan Belmer by Kathy Cooperman
9/28/1977 – 2/20/2015
Joel will always be remembered as a happy, funny, creative, and charismatic young man. I still call him my teddy bear. He loved Colorado and the mountains. He loved the company that he created, "O Dog Adventures." He was happily married and loved his entire family. He enjoyed helping others and volunteered as a wrestling coach for the Special Olympics for years. Joel truly made the world a better place, and I'm so proud to be his mom.
In Honor of Aaron Anil Reddy by Raj and Anita Reddy
7/25/2000 – 3/27/2019
Aaron was a gentle, kind hearted, fun and loving soul. He loved his family, pets, playing video games, going out to restaurants and watching movies. He also had a brilliant mind as a conservative young business man. He graduated from a blue-ribbon magnet high school where he was a member of the Future Business Leaders of America. He was an accounting major in college and wanted to become a certified public accountant.
In Honor of Kevin Bright by Bart and Hazel Bright
2/10/1989 – 8/14/2018
Kevin was an intelligent and sensitive child. He was loved and lovable. Kevin was also witty and displayed a great sense of humor. He enjoyed playing the piano for many years. As a teenager Kevin struggled with depression and anxiety. He worked hard to overcome his challenges and self medicated, at times, with high THC marijuana. The last six years of his life Kevin increased his marijuana use and eventually took his life at 29 years old. We love and miss him everyday.
In Honor of Garrett Reilly Craig by Jay Craig
3/2/2000 – 1/12/2019
Garrett was a brilliant young man with endless opportunity before him. His path ended in his suicide at 18 years old after a descent into high-potency marijuana use. Garrett had many interests and many friends. Garrett and I met for lunch a few days before he died. After lunch, we hugged, and I said, "I love you." In his usual quiet mumble, Garrett replied, "Luv ya." Thank you, God, for that moment.
In Honor of Ben Shealy by Ray and Suzanne Shealy
4/5/1999 – 5/19/2020
Growing up Ben was full of energy, had a great sense of humor, loved basketball, gaming on his computer, cars and technology. His sister, brother and friends would always count on Ben to entertain and make things amusing. However, when Ben started to self-medicate his problems during his early years of high school, things started to spiral down quickly. As we later discovered, this led to weekly, sometimes daily, weed use for the next 3-4 years. Then he started smoking and dabbing high concentration THC weed. Ben was running across the lanes on Interstate 5 in Laguna Hills and was killed by a semi truck.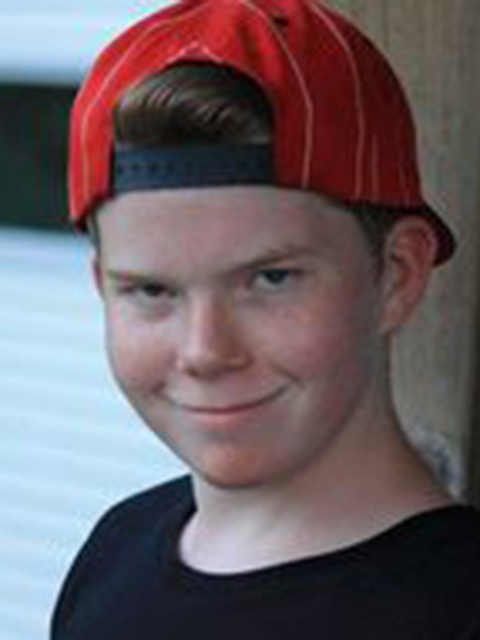 In Honor of Brian Patnode by Patricia Patnode
3/8/2002 to 7/16/2019
Brian was 17 going into his senior year when he passed from suicide. He was very smart, got high grades, and received awards for his academic efforts. He had a wonderful voice and was very involved in choir, as well as many school plays and musicals. He played football for the first time his junior year and was the only male in his class to be in the National Honors Society. No one would have guessed he was depressed, as he had many friends. Sadly he started self-medicating with marijuana, which led him down a bad path. He is missed by all.
In Honor of Brent Anthony Bernhardt by Heather Curzon
1/28/1996 – 7/15/2021
Brent was a quiet young man with a very kind heart and soul. He loved his family, animals & nature and especially his dogs. He enjoyed many outdoor activities like hunting, fishing, hiking, camping, kayaking, and boating. He was also an avid gamer and enjoyed laser tag and paintball. Brent struggled with depression for years, which led him at an early age to experiment and self-medicate with marijuana. In the last two years of his marijuana use, he began to exhibit signs consistent with drug-induced psychosis (confirmed by diagnosis), which ultimately led to Brent's suicide at the age of 25. We all miss him so much and always will.
In Honor of Henry Gordon MacDougall by Gordon MacDougall
3/2/2001 – 10/7/2017
Henry was the kind of kid that connected with everyone. It didn't matter what group or clique they belonged to, Henry found a way to relate through his sense of humor and bright smile. He died in an automobile accident at age 16 after being given highly concentrated marijuana dabs at a friend's house. So many were truly devastated by his death, because he truly meant something to so many different people.
In Honor of Trevor London Leopold by Michelle Saevke Leopold
1/30/2001 – 11/17/2019
Trevor London Leopold was a loving human being with a huge heart, which he willingly shared with so many others. From an early age, Trevor loved animals. As an elementary student, he was an avid rockhound, nature detective, and even a certified Audubon Junior Birdwatcher. He was an Indian Guide, Cub Scout and Boy Scout, played little league and a lifelong avid skier, snowboarder, and skateboarder. All of the wonderful blessings that he had, talent, friendships, positive outlook on life, and most importantly, family, were sidelined by his decision to take a drug, most likely laced with fentanyl, after battling cannabis use disorder for several years.
In Honor of Neal Jansen Honka by Tom and Nancy Honka
4/21/1996 – 9/26/2016
Neal started smoking pot when he was 15, and his friends later told us it was daily. He got a medical marijuana card to buy it legally and get high concentration THC products. Neal became psychotic and tried to stop using marijuana, but he never quit. He told us at the end that he was an addict and felt like he was going crazy. He hung himself 3 days later in our backyard, and I, his mother, am the one who found him. We didn't realize what had happened until we heard Laura's story of her son, Johnny.
In Honor of Tyler J Southard by Sharon Southard
2/25/1994 – 7/28/2018
Tyler loved skateboarding, drawing, painting, and was a talented musician. After graduating, he worked for a computer company, but his dream was to write songs, and be a full time musician. Unfortunately, he wouldn't achieve his dreams because his marijuana addiction turned into psychosis, and early stages of schizophrenia. Tyler died by suicide, at 24. He hated his marijuana addiction, and was trying hard to beat it on his own.
In Honor of Jacob Brian Gorman by Sherri Gorman
6/10/2001 – 11/2/2021
Jacob was a quiet soul and Eagle Scout who loved camping, hiking, video games, and his friends. He graduated high school with honors and served 7 months in the Navy. Once out, he took great pride in buying his own condo at the age of 19. The choice to medicate with marijuana ultimately led to delusions/paranoia and contributed to his suicide at the age of 20. He is loved and missed every day.
In Honor of Joshua Jimenez by Sonia Jimenez
6/27/1999 – 12/23/2021
Joshua was gifted in too many ways to count; academically, mathematically, artistically, but his greatest gift was his sweet and loving heart. He was truly a beautiful light in the world, and he will be missed forever. His life had value and meaning and great impact to those who loved him. And although his absence will be felt deeply, we know that he is at peace.
In Honor of Randy Michael Bacchus III by Heather and Randy Bacchus
11/9/1999 – 7/17/2021
Randy Michael was bright, creative, humorous, fun-loving, kind-hearted, and generous. He enjoyed skiing, exercising, friends, and music. He wanted to attend the University of Boulder, scuba dive, have his own business, children, and a wife. Fiercely independent, Randy moved to CO at 18. He finished one year of community college, supported himself, created and developed two companies. We wish we could have seen all that he was capable of. Unfortunately, he was addicted to marijuana, developed CIP, and took his own life. RIP Randy. We love you.
In Honor of Katee Gene Ferguson by Nelson and Amanda Bohrer
12/20/1997 – 5/28/2020
Katee spent the majority of her life in Deer Lodge, Montana. She married Colton Ferguson in July 2018, and they had two sons, James Ferguson, 3, and Sebastian Ferguson, 1. Katee was an authentic friend to everyone. She had a magnetic personality that lit up any room. Her contagious smile was warm and inviting. She was very caring and giving. Katee had many talents and passions, including crocheting, painting, quilting, and scrapbooking. She is dearly missed by many.
In Honor of Zachary Muth by Kim and Donald Beckman
3/11/1997 – 1/31/2021
Zachary was a sweet, active, and outgoing person. He grew up in a Christian family and graduated from Valor Christian High School. He played competitive ice hockey over 10 years. He survived childhood leukemia as a child and always had anxiety, and then it progressed to depression. Zach went to college at University of Colorado in Boulder, and then everything changed when he started using marijuana, which he said helped his anxiety. This gateway drug lead to alcohol, cocaine, and then fentanyl while dabbing all day before overdosing.
In Honor of Nicolas James Glassman (Nick) by Steve and Carolyn Glassman
3/29/2001 – 1/20/2022
Nick was passionate about sports, having played both football and baseball through middle school. An avid Yankee and Giants fan, he was a regular attendee at Yankee and Met Life Stadiums with friends and family alike. In the Winter, Nick could be found snowboarding in Utah or Vermont and in the Summer, golfing at Navesink Country Club or boating on Lake George and in Long Beach Island. A devoted friend, brother, and cousin; those who knew Nick knew of his generous personality, his bright outlook on life and his desire to help each person he met. His most cherished times were spent with his family and friends. Sadly, Nick started using marijuana and took his own life.
In Honor of Kaeden Allan Kieran Steiner by Julie Steiner
2/8/2006 – 11/01/2021
My boy was the sweetest, funniest, big -hearted guy with beautiful hair, soulful hazel-brown eyes, and the best smile and laugh ever! He was light and sunshine for anyone he met. He loved jumping (how ironic), flipping, skateboarding, playing guitar, and being with his friends and family. All about fun and making people feel good. We were so very lucky to have him with us as long as we did!
In Honor of Taylor Rose Moore by Dianne Moore
9/23/2001 – 10/31/2021
Taylor was 20 years old and bi-polar. She was living away from home and attending school in Santa Cruz. She lived with her girlfriend and the relationship became unhealthy and toxic. Taylor smoked pot. Every day. All. The. Time. She was most likely off of her bipolar meds. She ended her life after a fight with her girlfriend. She hung herself from a tree with a belt. She called Telecare (a mental facility in Santa Cruz) the night she took her life, and they told her "she didn't meet the criteria."
In Honor of Sebastian "Sebas" Paz by Luis and Laura Paz
02/27/1999 – 10/28/2021
Sebastian "Sebas" was a wonderful young man with a kind soul, a big heart, and contagious smile. He had a love for food and cooking and graduated from culinary school. Sebas struggled with substance use disorder for seven years. He started smoking pot in high school, just to fit in and make friends. For Sebas, marijuana became a gateway drug. At the time he passed away, Sebas was committed to his recovery and was clean for seven months. Unfortunately one slip with a fentanyl pill took him at age 22. We love him and miss him every day.
In Honor of Dillan Hardt by Francine Zimmermann
12/30/1997 – 1/5/2019
Dillan started smoking pot as a young teen. He was hospitalized senior year of high school after experiencing delusions. This drug-induced psychosis was the beginning of a rapid decline in Dillan's mental health. Dillan believed marijuana helped with anxiety, but his doctors believed it worsened his mental health and contributed to other challenges, which culminated in his death by suicide. Dillan loved his mom and little brother most of all. He is missed every day.
In Honor of Jacob Leif Nielsen by Rebecca Nielsen
3/6/2007 – 8/3/2023
Jacob was a joyful, funny, intelligent, adventurous young man surrounded by a large family, and lifelong friends. He was an expert skier, kite boarder, Lacrosse player. He had compassion and empathy beyond his years and was always available for his friends and cousins. He was introduced to Marijuana his freshman year of high school, then dabbing, and spiraled into depression and anxiety. His mother, friends and girlfriend tried to help him stop, but he succumbed to suicide while under the influence.