If your child is suicidal, it's a medical emergency. Please CALL 911 for medical personnel or 988 for mental health personnel. If your child is in psychosis or mania, take him/her to the Emergency Room!
I just found out my child is using marijuana! Now what? What do I do? This is the question Johnny's Ambassadors receives most frequently. We are so sorry this is happening to your child. When it happened to Johnny and he became psychotic, there was no Johnny's Ambassadors, and we didn't know what to do or where to turn. Now, Johnny's Ambassadors provides education, awareness, and prevention resources to help you understand what is happening to your child. Importantly, we are not a crisis center and don't provide intervention services. However, we are happy to provide this list of resources to locate help for your child.
If you need to get help for a child addicted to marijuana, having mental health challenges, or is in psychosis, we have mental health care locators and treatment centers that understand Cannabis-Induced Psychosis listed below. Being listed on this page does not imply an endorsement from Johnny's Ambassadors. Since we do not know your child and aren't clinicians, we can't provide a recommendation to a particular center. It is your responsibility to call the center and determine proper fit.
More thoughts from Aaron Weiner, a member of Johnny's Ambassadors Scientific Advisory Board:
Find out why: it's important to understand why your child was using marijuana to inform how to stop them from using it in the future. If you don't solve the "why" another way, they're likely to go back, if not now than once they leave home for college or work
Consider testing for THC, as well as performing random drug tests in the future. It's important health information to know what else your child might be using, particularly nicotine, opioids, benzodiazepines, stimulant medication, and cocaine. Depending on your relationship and situation with your child, drug screens may also be helpful to regain trust, as well as give your child a valid excuse to decline use if around other teens who are using marijuana ("I can't – my parents drug test me").
Work with a therapist, or a treatment program. Depending on how serious the substance use is, your child may benefit significantly from receiving counseling. Don't hesitate to work with therapists – both you and your child will likely grow positively as a result!
Here are some resources to help you:
Join our support group of other parents impacted by their child's marijuana use. We invite you to join our monthly Johnny's Ambassadors Parents of Children with Cannabis-Induced Psychosis (POCCIP) support group for parents who have children addicted to marijuana or in psychosis/mental illness. We meet monthly on video for fellowship. First, register for our online marijuana prevention community. State your child has psychosis, and you'll be placed in the Parents of Children with CIP discussion group. I will also add you to our mailing list and support group email list. Second, join hundreds of other parents in your same situation on our private Parents of Children with Cannabis-Induced Psychosis (POCCIP) group on Facebook. Last, read my book, "The Dangerous Truth About Today's Marijuana: Johnny Stack's Life and Death Story." It tells Johnny's story and provides important research and education to understand what is happening with your child.
Peer marijuana cessation group for young adults. If your adult child (age 20+) is interested in reducing or eliminating marijuana usage, we have a partnership with famed London cannabis researchers, Marti di Forti and Sir Robin Murray to allow Johnny's Ambassadors to join their peer group. Meetings for marijuana users ONLY (no parents) are held on Tuesdays at 9am mountain/11am eastern. Please email me at [email protected] for more information on this program. Or if your child is under 25 and wishes to quit marijuana, the San Diego district of Marijuana Anonymous also has a meeting for young people. See the "Next Step in Life" group and send an email to [email protected] for the password.
Social media networks. Join our regular Facebook group if your child is addicted, our Parents of Children with Cannabis-Induced Psychosis (POCCIP) group if your child is in psychosis, and our THC death group if you lost your child due to THC outcomes.
Peer mentors for your child. If your child is using marijuana or is in psychosis, and he/she doesn't believe marijuana is the cause of their problems, our young adult mentors are willing to have a 1-on-1 conversation with your child. These conversations should NOT be considered treatment advice, simply support. Our peer mentors have all been through marijuana psychosis and have come out the other side. They now volunteer with Johnny's Ambassadors to talk to youth about how they were harmed and encourage them to stop using. Talk to your child to get their buy-in to receive a phone call. If your child is an adult (18+), she or he must email me directly to request support. If your child is a minor, first have a conversation with your child to secure permission for a mentor to call. We can't call your child out of the blue, as that is uncomfortable for our mentors. Once you have secured agreement from your child, email [email protected] with your request. Send your child's name, cell phone number, age, and pertinent information on what's happening. I will refer you to a suitable mentor to arrange a conversation.
Join a Mar-Anon support group for those who are affected by another's marijuana use (this is the marijuana equivalent of Al-Anon, which helps friends and family of alcohol users). This is NOT a meeting for current marijuana users themselves. Go to Mar-Anon.com for more information or email [email protected] with questions. There are multiple virtual support meetings every week.
Support groups for marijuana users. There are also over 400 Marijuana Anonymous meetings every week for marijuana users who want to stay sober or are trying to reduce their use. Go here to find a meeting.
Locate Help for Your Child
Addiction Center – search for rehab providers in your area
Association of Intervention Specialists – a network of interventionists located throughout the country and abroad. Members guide families on how to help their loved one.
Love in Action Intervention Services – immediate crisis support for psychosis and marijuana use
Parent Helpline: 855-DRUGFREE (855-378-4373) Monday-Friday, 10:00AM to 6:00PM ET
Second Wind Fund: expedited access to life-saving therapy for youth at risk for suicide
National Rehab Hotline – dedicated helpline to find local addiction or mental health resources for free.
Parents Love Their Teens is a nationwide intervention and placement program.
Directory of providers and educational consultants to help place and transport your teen.
Find Treatment anywhere in the U.S.
National early psychosis treatment locator for early serious mental illness treatment facilities (SAMHSA).
ATLAS (Addiction Treatment Locator, Assessment, and Standards) platform by Shatterproof
The Juvenile Assessment Center is an early intervention locator for Colorado.
Colorado Crisis Services provides 24/7 support and referrals for your loved one.
Partnership to End Addiction (includes bi-lingual Spanish-speaking assistance) provides resources to help change the family dynamic and how to support a child with addiction.
Initiating Court-Ordered Treatment – Inpatient, Outpatient and Emergency Hospitalization Standards by State
Parents' Universal Resource Experts – helping parents of difficult teens find a therapeutic boarding school
StartYourRecovery.org – support for overcoming substance misuse
Find a therapist near you – Psychology Today locator
Resources for Families Coping with Mental and Substance Use Disorders – Substance Abuse and Mental Health Services Administration
States with Mandatory (Involuntary) Addiction Treatment laws – In 37 US states, there are laws in place that can facilitate the involuntary rehab of someone struggling with marijuana addiction but unwilling to ask for help.
NAMI National Alliance on Mental Illness – find a chapter near you. Many chapters have pro-bono attorneys to advise you on petitioning for a court-ordered guardianship of your child.
Treatment Advocacy Center – Know the laws in your state to get emergency help for your love one with a mental illness crisis.

Find Support for Your Child
Find an Alternative Peer Group (APG) – support group for kids in recovery
Find a Recovery High School – transfer your child to attend school with others working to be sober.
5280 high school in Denver accepts students from all over the country to be in a public school where they are supported in their recovery.
Find a Marijuana Anonymous meeting – like AA but for marijuana addicts wanting to cut back or stop
FullCircle – For youth struggling with high-risk behavior problems. Centered around the Enthusiastic Sobriety Philosophy: the idea that young people will stop their self-destructive behavior only if they are offered an alternative that is both fun and fulfilling. Operates a staff facilitated support group for young people and their parents. Denver, Phoenix, Georgia, Kansas City. In Denver, Call Ben Stincer at 720-531-3716.
Sober AF Entertainment – Creating safe spaces in fun places. Voice of the community looking for sober fun, without being around marijuana.
Job Corps – 16 to 24-year-olds ready to work toward a successful future are welcome. Applicants must meet one or more of these conditions: receives public assistance, earns poverty-level income, is homeless, is a foster child, or qualifies for free or reduced-price lunch.

Cannabis-Induced Psychosis and Addiction Recovery Centers
INTERVENTION PARTNERS
Need help getting your adult child into treatment? Not sure what center is right for your child? We have trusted professional intervention partners, who will provide a free consultation to give you advice and share how they can help:
* Jordan DeHann, (407) 620-9003, email [email protected], www.therecoveryguides.com
* Jay Avery, (949) 326-3497, [email protected], www.stonebridgerecovery.com
* Richard Casey, Robinson & Casey attorneys helped one of our members get their son treatment under the Marchman Act through their office. You must take your child to FL.
* Ryan Silberberg, The Sage Collaborative, 949-929-1452. Several members have used him.
ACUTE CARE/FIRST EPISODE PSYCHOSIS
Alta Mira – (CA) Cannabis Induced Psychosis detox and treatment
Clearfork Academy – acute marijuana detox, 13-week ranch rehabilitation program
EDAPT Clinic – (CA) UC Davis first episode psychosis ages 12-40
Foundry Steamboat Springs – (CO) Cannabis Induced Psychosis detox with co-occurring substance use and mental health disorder in the Colorado mountains for men only
Hanley Center at Origins (Palm Beach, FL) – inpatient rehab for men and women ages 18+
Menninger Clinic Houston – (TX) First intensive (acute) stage psychosis
Mission for Michael – (CA) premier resource for intensive mental health treatment (early CIP incident)
Northpoint – (CO) – Acute marijuana detox, in-patient rehab, outpatient rehab continuum
Silver Hill Hospital – (CT) offering three levels of care: inpatient, transitional living, and intensive outpatient treatment. 
Turning Point (Fairfax County VA) – for those who are considered at risk for psychosis, from ages 14 to 25, to manage symptoms of mental illness and/or substance use disorder.
UC San Diego Health (San Diego, CA) – First-Episode Psychosis Program – getting young people and their families the help they need, as early as possible
Vanderbilt Early Psychosis Program – (TN) 16 to 30 years old with first-episode crisis
RESIDENTIAL TREATMENT CENTERS/DUAL DIAGNOSIS/PARTIAL HOSPITALIZATION PROGRAM (PHP)
BrightQuest Treatment Centers – (CA and TN) – Residential Cannabis Induced Psychosis acute care (longer term)
Crownview Co-Occurring Institute (CA) – Primary Psychiatric Treatment and Dual Diagnosis
Jaywaker Lodge – (CO) – 3 month inpatient program, followed by a 3-month residential intensive outpatient program, followed by a sober living program for adult men needing to start a new life after recovery
LifeSkills – (FL) Dual Diagnosis for adults 18+
New Roads Behavioral Health – (UT) Behavioral Health Treatment Center for Complex Mental Health Conditions (schizophrenia and dual diagnosis)
Pace Recovery Center – (CA) Dual Diagnosis marijuana addiction treatment – continuing care after initial detox is complete
Peaks Recovery – (CO) 24-bed young men 18-30 only, dual diagnosis, 45-day program with step down to outpatient and sober living
Red Oak Recovery – (NC) Comprehensive dual-diagnosis addiction treatment for young men
Rising Roads Recovery – (CA) rehab for women. Substance abuse and mental illness.
The STEP Program at Denver Health – (CO) substance abuse treatment up to age 21 (even with no insurance). Call Yesenia at 303-602-4848.
Sundown Ranch – (TX) ages 12 to 18 years with dependency and co-occurring psychiatric disorder
Turnbridge – (CT) Mental health and substance use disorder treatment programs (dual diagnosis) for young adults and adolescents (both genders).
Viewpoint – (AZ) Expert Mental Health Care for a Range of Complex Psychiatric Conditions with co-occurring substance use disorder.
LONGER-TERM RECOVERY/INTENSIVE OUTPATIENT PROGRAM (IOP)
Addiction Recovery Management Services (MA) ages 14 to 26, dual diagnosis, outpatient.
Avanti Behavioral Health – (CO) ages 14 to 18, dual diagnosis of primary substance use with mental health diagnosis
Catalyst – long-term rehab for boys with therapeutic and experiential activities
Choice House – (CO) A 90-day marijuana abuse treatment, transition, and intensive outpatient program when more than 30 days is needed to build long-term sobriety
Cornerstone – (CO) a 12-step outpatient program for youth early in recovery
CU School of Medicine – (CO) Addiction Research and Treatment Services
Lakeside Academy – (MN) Lakeside Academy is a faith-based residential treatment center for boys aged 14-18 years, who are struggling with substance use, anger management, and other behavioral issues.
Maryland Addiction Recovery Center (MD) – structured aftercare following a detox, stabilization, or a 28-day inpatient rehab, or a step up in treatment intensity of a traditional outpatient treatment program.
Muir Wood – (CA) dual diagnosis treating teen mental health and substance use disorders in boys and girls ages 12-17
Newport Academy – (CA, CT, MN, UT, VA, WA) – residential treatment centers for teens and young adults (both genders)
Pathfinder's Recovery – (AZ, CO) Addiction and Co-Occurring Disorder treatment center
PrairieCare – (MN) Intensive Outpatient Program, Elevate. 9 weeks in duration. Groups meet 4 days per week for 3 hours a day.
Second Nature – Wilderness therapy program
Skyland Trail – (GA) a residential program with an early psychosis program.
Silver Hill Hospital – (CT) full continuum of residential, step down, and intensive outpatient. Treatment for adolescents and adults.
St. Christopher's Residential Center – (LA) achieving long-term recovery in males 18+
SOBER LIVING/BOARDING SCHOOLS/LONG TERM RESIDENTIAL/STEP DOWN PROGRAMS
John Volken Academy – Long-term residential rehab for young adults
North Carolina Boys Academy – a Christian boarding school for teenage boys
Recovery in the Pines – (AZ) – long-term faith-based addiction treatment
Resolution Ranch – Boarding School for Troubled Teens
Solstice – residential program for girls ages 14-17
Spero Residential and Sober Living Center – for young men and women
Step Sober Living – Residential Peer Recovery Program for men 21+, No cost, no insurance required, same-day admission
Teen Challenge – 12 to 18 month Christ-centered long-term residential programs around the country.
The Beacon House – (CA) long-term residential recovery for addiction for adult men
The Grounds Recovery – (CA) transitional living for young men 18-30
Wellness and Recovery after Psychosis (WRAP) – (MA) medication management, weekly group therapy, individual therapy, peer support, family support and education
Toolkits
Preventing Marijuana Use Among Youth
Treatment e-book – Partnership for Drug-Free kids
Marijuana Talk Kit
National Institute on Drug Abuse – Marijuana Facts for Parents
Marijuana Talk Kit from the Partnership for Drug-Free Kids
Mind Over Matter – CA Dept. of Education
Find support for yourself
Are you a Parent of a Child with Cannabis-Induced Psychosis (POCCIP)? Join our private Johnny's Ambassadors Facebook support group.
MomPower helps moms with addicted children.
Advanced Adolescent Services provides teen transport services to treatment programs.
CRAFT classes help parents who are struggling with their child's substance misuse and looking for support and change.
NAMI Family-to-Family is a free, 8-session educational program for family, significant others, and friends of people with mental health conditions.
Douglas County, CO Wrap-Around is a free program to solve family problems.
Helping Parents Heal provides community and resources to help you heal.
Reach Out For Change – free evidence-based classes for parents on how to improve communication and move your child toward treatment for substance use.
Partnership to End Addiction has free parent support groups and coaching.
Marijuana Resource Center from the Partnership to End Addiction
Invitation to Change – helps you understand addiction and strengthen the connection with your child
Hopestream Community – a collection of support and educational services for parents of children struggling with substance use.
Other Parents Like Me – an online parent to parent support community designed for parents of teens struggling with mental health issues.
Email [email protected] for further information or questions on getting help for your child.
Finding a properly qualified therapist to assess your child. Make sure to find someone:
* Licensed and certified
* Master's level +
* LCSW, LPC, MAC
* CAC (Certified Addictions Counselor
* Check their collateral material and history
* Make sure they do toxicology (urine) screens

Grieving resources for those who have lost a child
Umbrella Ministries helps mothers through the grief of losing a child.
The Compassionate Friends supports the entire family after a child dies.
GriefShare meetings really helped us grieve the loss after Johnny's death.
List of recommended grief books by Anne Moss Rogers.
Life after Child Loss: The Mother's Survival Guide to Cope and Find Joy
Did you lose your child due to marijuana-related causes? Join our other grieving parents.
Samaritans – Preventing Suicide – Samaritans works to prevent suicide and support those who have lost someone to suicide.
Download Holiday Tribute Graphics

Reading
The Dangerous Truth About Today's Marijuana: Johnny Stack's Life and Death Story by Laura Stack
Smokescreen: What the Marijuana Industry Doesn't Want You to Know by Kevin Sabet
The NeuroWhereAbouts Guide: A Neurodevelopmental Guide for Parents and Families Who Want to Prevent Youth High-Risk Behavior by Crystal Collier, Ph.D.
Tell Your Children: The Truth About Marijuana, Mental Illness, and Violence book by Alex Berenson
Beyond Addiction: How Science and Kindness Help People Change by Jeffrey Foote
Cognitive Behavioral Therapy Program for Cannabis Use Cessation in First-Episode Psychosis Patients: A 1-Year Randomized Controlled Trial
I Am Not Sick, I Don't Need Help! How to Help Someone with Mental Illness Accept Treatment (LEAP Method) by Xavier Amador
Quitting Weed: the Complete Guide by Matthew Clarke
Unbroken Brain: A Revolutionary New Way of Understanding Addiction by Maia Szalavitz
The Body of Chris: A Memoir of Obsession, Addiction, and Madness by Chris Cole
Easy Way to Quit Cannabis: Regain Your Drive, Health and Happiness by Allen Carr
Broken Pieces and the God Who Mends Them: Schizophrenia through a Mother's Eyes by Simonetta Carr

Tools
Sobriety apps from the Drug Enforcement Agency
Different types of guardianships you can get when your child is an adult (laws will vary by state – contact a lawyer if your child is mentally ill and unable to make good decisions)
Johnny's Ambassadors online teen and adult marijuana training
Top Ten Teen Toking Tip-Offs
You Know Nothing About Weed
Teen Marijuana "FACT" or "CRAP" game
Watch our on-demand videos from our Johnny's Ambassadors Expert Webinar Series for Parents.
Wellness Recovery Action Plan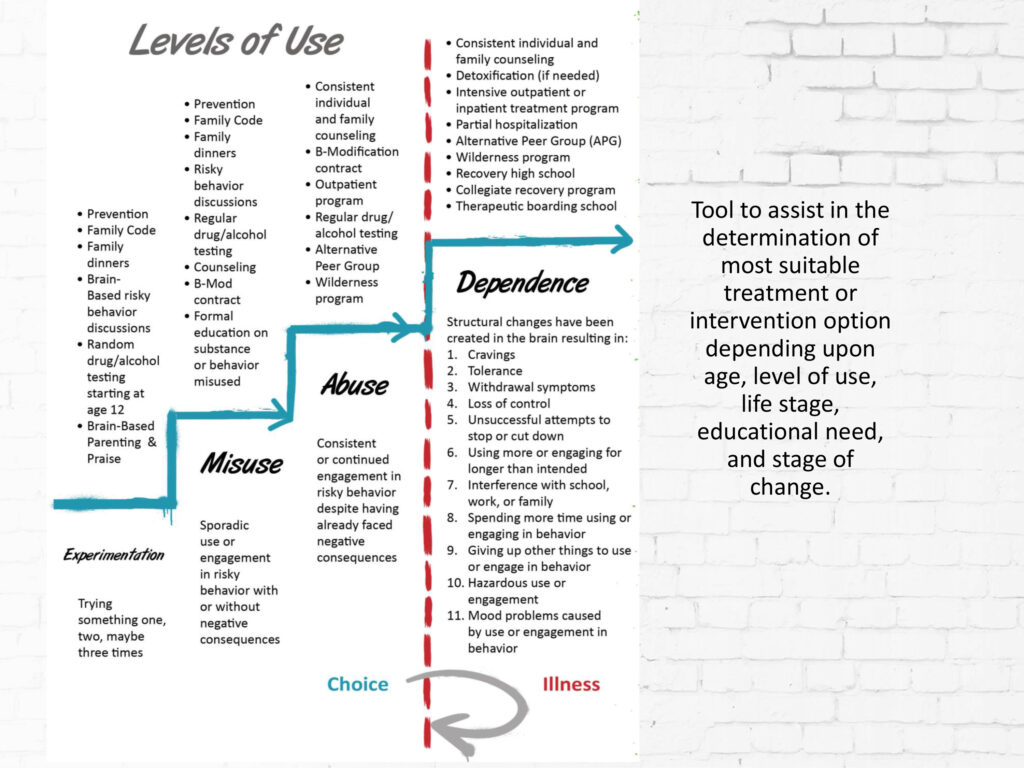 Read Our Latest News for Parents